Don't Let Smoke Damage and Soot Odors Linger After a Fire in Palm Springs, California — Contact Flood Response for Complete Restoration and Cleanup
Home fires can be devastating, and the process of getting your home repaired can be just as stressful. But even after your walls are repaired, the surfaces are finished, and the electrical system has been inspected, the smell of smoke can remain. Don't let poor restoration efforts leave your home with lingering smoke damage and odors. At Flood Response, our Palm Springs, California fire restoration services start to address smoke, soot, and odors from the start so your home looks and smells like home again. Call us today at (760) 343-3933 for complete fire cleanup and restoration.
Even Small Fires Can Leave Behind Traces of Smoke and Odor
Both small and large house fires leave behind significant damage, including:
Fire damage

Smoke damage

Odors
While fire damage, such as burn marks, holes, and burned appliances and surfaces, are often the first thing that comes to mind, we know that smoke damage and odors can be just as severe. It can leave behind permanent stains in curtains, carpeting, walls, and more. The smoke can also quickly spread throughout your home's ventilation system — even if the fire is quickly contained — which can exacerbate the damage.
House fires leave behind multiple different types of smoke damage and residue, including:
Dry smoke residue, which is the powdery ash that high-temperature fires leave behind. This fine powder can be ground into fabric surfaces and leave your house smelling smoky for months or even years.

Wet smoke residue, which is made in low-temperature fires. This pungent, sticky residue is difficult to remove and can start to smell even stronger if left untreated.

Protein residue: Protein residue is particularly common in kitchen fires, where food and oils may be part of the blaze. This smoke residue is smelly and can go rancid over time. Kitchen fires are even more likely to cause significant smoke damage throughout your home.

Fuel soot: If a fire involves your home's furnace or other appliances with a fuel source, it can give off fuel oil soot. Not only does it have an alarming smell, but the sooty stains are also easy to accidentally spread across surrounding surfaces. 
With all of these potential sources of damage, it's important to start combating the presence and spread as soon as possible. When you choose Flood Response, that's exactly what we do.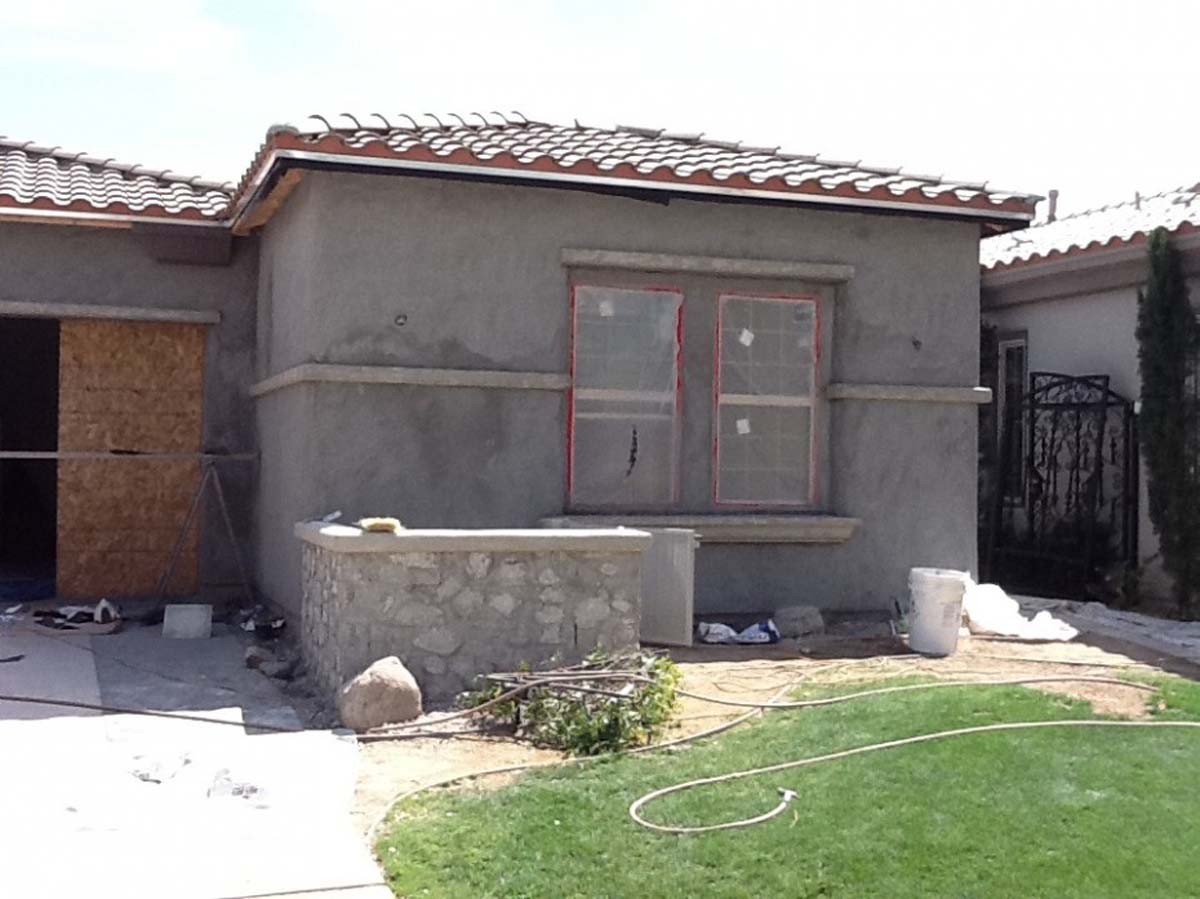 We Provide Comprehensive Emergency Restoration and Reconstruction Services to Homes in Palm Springs, California
At Flood Response Restoration Services, we provide expert services for every stage of a fire or flood disaster so we can help you return home as easily and quickly as possible. Our services include:
Flood Response Restores Homes with Fire and Smoke Damage
We never just stop at repairing structural and visible damage. When we get a call about fire damage, we thoroughly inspect the affected area and any potential areas of spread. Our IICRC-certified team members will thoroughly document smoke, soot, fire damage, and traces of odors to make sure they get properly addressed. Throughout the cleaning, repair, and restoration processes, our team will:
Clean up and remove fire residue.

Remove traces of soot and damage from the walls, ceilings, and other interior spaces before sealing them up during restoration.

Monitor for traces of smoke and soot throughout the project.

Clean the affected areas and your air ducts.

Make sure every trace of smoke and odors are removed before we call the project complete.

Clean, remove stains from, and deodorize your carpets

Thoroughly clean and seal tile floors so even the construction dust is completely gone.
Our teams have the professional experience and equipment to clean and restore smoke-damaged areas. All of our equipment is sterilized between projects so you never have to worry about soot, smoke residue, or contaminants from other homes in the area.
Address the Invisible Damage Before It Sets In
House fires are scary, and the visible destruction to your home is stressful and distracting. That's why we offer comprehensive damage and odor removal as part of our fire damage restoration practices. We handle all of the details, even the ones you can't see, so your home feels safe when you walk back into it.
Smoke smells are more than just an unpleasant reminder. They can permanently damage the value of your home. They're also an indication that the fire residue wasn't completely cleaned up. Left unchecked, protein residue can grow more rancid and spread pathogens as the remaining organic particles turn. Fuel soot can spread stains and even act as fuel for another fire. We promise to never just sweep the damage under the rug — our priority is your long-term peace of mind, not short-term non-solutions.
Flood Response Is the Go-To Restoration Company in the Coachella Valley Area
We provide excellent, comprehensive restoration services for home disasters throughout Coachella Valley. Whether your home has suffered a fire, a flood, a sewage backup, or another emergency, we can help you get life back on track by handling every step of the home restoration.
"Working with Flood Response is like working with a top notch company. They never fail on communication (you get regular updates, with photos) or execution of the work you contract with them. I would recommend them to anyone!"
"I was directed to Flood Response to deal with water damage to the walls of a condo that I was selling on behalf of my father's estate. Micha handled the coordination of the remediation and repairs with efficiency and cost effectiveness."
"I just had Aldo and Cesar leave my house they are the best! They are very knowledgeable about there job and were very cautious about their job when entering my home! They came in explained what they were doing step by step."