Call Flood Response for Complete Residential Restoration Services in Palm Springs, California — We'll Take Care of Everything
Don't be left scrambling to juggle emergency water removal, belongings storage, and reconstruction after a home disaster. When you choose Flood Response, we can help manage every step of clearing out the damage and making your Palm Springs, California home safe again from start to finish. Call us at (760) 343-3933 for immediate assistance, and we can have an emergency team at your home within the hour. We're the local experts in complete residential restoration services after floods, fires, plumbing disasters, mold, and more.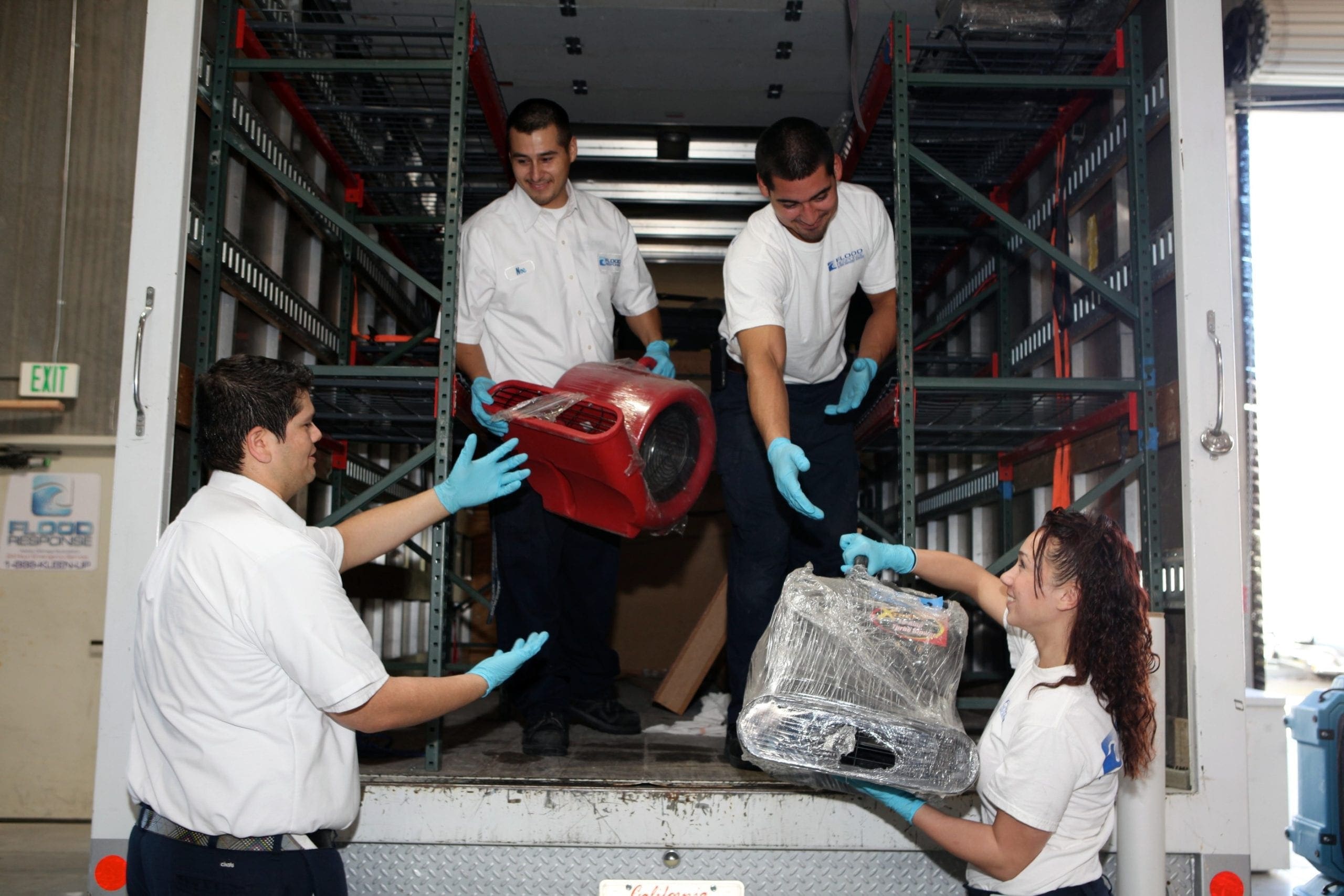 We'll Be There Within the Hour to Help Protect Your Home After Any Disaster
Disasters move quickly. Floods can damage drywall, carpeting, and your belongings within just a few minutes. Smoke and fire residue can saturate your home's surfaces immediately, even once the fire has been put out. Toxins and contaminants from plumbing disasters and sewage backflows can also seep into porous home fixtures and ruin the materials within minutes. That's why we're available 24/7, 365 days a year, to start containing the damage immediately. When you call our central office in Thousand Palms, we'll send an emergency in a marked vehicle with professional tools to help keep your home and belongings safe.
Rest Assured That Your Home Is in Good Hands After Flooding or Water Damage
Our flood restoration response is built to handle every step of protecting and repairing your home after a flood. First, we'll begin emergency water extraction services to pump out standing water, pull moisture out of affected surfaces, and restore humidity levels to normal conditions. By acting fast, we can minimize damage done to your home and drastically reduce the risk of mold and mildew. 
Once the emergency has passed, our IICRC-certified team of flood restoration experts, general contractors, and specialists will start restoring your home to its previous condition. This includes repairing damaged fixtures, restoring paint, flooring and finishes, and more. Whatever we can't restore, we'll replace.
The Flood Response Team Will Completely Restore Your Palm Springs, California, Home After a Fire
Even a small kitchen fire can leave behind catastrophic damage. We will thoroughly document the spread of fire and smoke damage as soon as we arrive so your insurance company will know the full extent of necessary repairs. Not only do we record the full extent of the visible damage, we investigate damage that's hidden from sight, such as compromised wiring, smoke residue that has spread through the vents, and damaged supports inside the area's walls.
Once our inspection is complete, our in-house general contractor will manage every step of clearing away damaged materials, replacing them, and restoring everything to its previous condition. Before we leave, we'll ensure every trace of fire residue, soot, and smoky smell is gone.
Don't Wait After a Sewage Backup or Mildew Formation — Call Us!
Sewage backups are particularly dangerous because they bring toxins, pathogens, and raw sewage into your home. Once a surface has been contaminated, it needs to be thoroughly restored or replaced. Our team can completely handle the repairs and cleanup, including replacing carpeting and padding, decontaminating tile flooring and permanent fixtures, and more. We can also remove visible mold and mildew to help keep your home safe.
Our Residential Restoration Services Include Reconstruction, Repairs, and Restoration
At Flood Response, we don't just handle emergency containment and mitigation. Our team is certified and experienced in handling the complete restoration of your home so you don't have to worry about the details of managing multiple contractors while you and your family recover. We handle every job from the first hour of taking your belongings away from the affected area and into secure storage, to sweeping away construction dust and putting the finishing touches on your newly restored home.
Our comprehensive emergency repair and residential restoration services include:
Along with our commitment to handling every step of the process to making your home feel like home again, we always prioritize your safety and peace of mind. All of our equipment is thoroughly sterilized between each home project, and we won't unwrap it until we arrive on-site. You never have to worry about contaminants, cat hair, or toxins from other properties we've served.
We Work for You, Not Your Insurance Company — That Means Your Money Stays in Your Pocket
Flood Response is an independent local company, and we don't work for your insurance provider. Because we work for you and with you to make your home safe and fully restored after a disaster, your home will receive all of the repairs it needs, with no cut corners or attempts to minimize the damage. We know what surfaces can be restored and what should be completely replaced, and we won't let your insurance company try to argue down necessary expenses.
We will also send the bill straight to your insurance company so you don't have to worry about arguing with an adjuster, paying out of pocket, or dealing with repair delays that stop you from going home. Handling insurance is part of the complete residential restoration process, and that's why we take care of it for you.
We Serve the Coachella Valley Area With Comprehensive Residential Restoration Services
We're proud to serve the community we live and work in with excellent emergency cleanup and complete restoration services that keep our neighborhoods safe and beautiful. When floods, fires, or home disasters strike, call our team! We can be at your home within the hour to start containing the damage, and we'll be with you every step of the way until you can safely return home.
"Working with Flood Response is like working with a top notch company. They never fail on communication (you get regular updates, with photos) or execution of the work you contract with them. I would recommend them to anyone!"
"I was directed to Flood Response to deal with water damage to the walls of a condo that I was selling on behalf of my father's estate. Micha handled the coordination of the remediation and repairs with efficiency and cost effectiveness."
"I just had Aldo and Cesar leave my house they are the best! They are very knowledgeable about there job and were very cautious about their job when entering my home! They came in explained what they were doing step by step."